Der Tod der Kompaktkamera
Vor einiger Zeit habe ich diesen Tweet losgelassen:
The majority of all pictures in 2018 here on DailyFratze has been taken with some kind of mobile. Real compact cameras seems to be dead.

— dailyfratze (@dailyfratze) December 31, 2018
Nun habe ich einige Zahlen rausgesucht. Diese Exceldatei basiert auf allen Fotos von 2005 bis 2018 und beinhaltet zwei Auswertungen, die aussagen, mit welchem Gerät ein Foto aufgenommen wurde. Einmal gruppiert nach Jahr und Marke, einmal nach Jahr, Marke und Modell. In die Auswertung wurden nur Marken bzw. Marken und Modelle mit einbezogen, mit denen im jeweiligen Jahr mehr als 100 Fotos gemacht wurden.
Dabei ergibt sich folgendes Bild (die Bilder bitte klicken):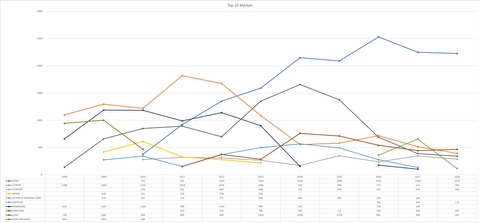 5 Jahre nach dem erscheinen des ersten iPhones auf Daily Fratze (2008) werden ab 2013 ungefähr die Hälfte aller Bilder mit einem Apple-Gerät gemacht.
Auf die Top-10-Geräte in den letzten 3 Jahren herunter gebrochen ergibt sich dieses Bild: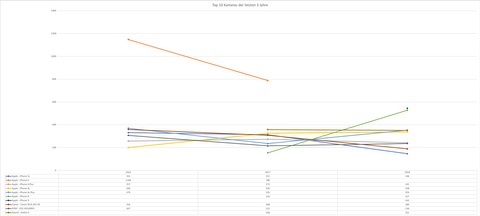 7 von 10 Geräten sind Apple iPhones, ein weiteres Handy. 2 Kompaktkameras verbleiben.
Ich habe ganz lange fast überall hin eine Kamera mitgenommen. Spätestens das iPhone 8 war für mich in den meisten Fällen einer kompakten Kamera der 100 bis 200€-Klasse gleichwertig oder überlegen.
Wie die Kommentare hier und die sinkenden Nutzerzahlen andeuten, scheint die Zukunft dieses Projektes ungewiss. In Hinblick auf ein Stück Internet-Vergangenheit haben wir nichts desto trotz einen interessanten Datenschatz angehäuft, der Trends schon sehr früh deutlich machte.
Ich erinnere mich noch gut, wie ich bei einigen Herstellern um 2008 Testgeräte mit "Selfie-Display" angefragt habe. Damals noch Neuheit, heute aus vielen Kategorien schlichtweg nicht mehr wegzudenken.